In today's world, social media cannot be ignored. It's a great free platform that can increase brand awareness and generate leads.
There are ways to elevate your social media accounts and make them stand out from the rest. From social media graphics to analytical tools - we have curated the perfect list of all of your social media needs.
---
Graphic Design Tools
You don't need to have graphic design skills to make your posts look professional and visually appealing.
1. Canva
Canva is one of the more popular graphics websites. They have thousands of templates to choose from with different themes, although you can also create your own designs. Canva has specific templates for Twitter posts, Facebook posts, Facebook covers, Instagram posts, and Instagram stories. Canva is free, but you can upgrade to Canva Pro for a few extra perks for $9.95/month.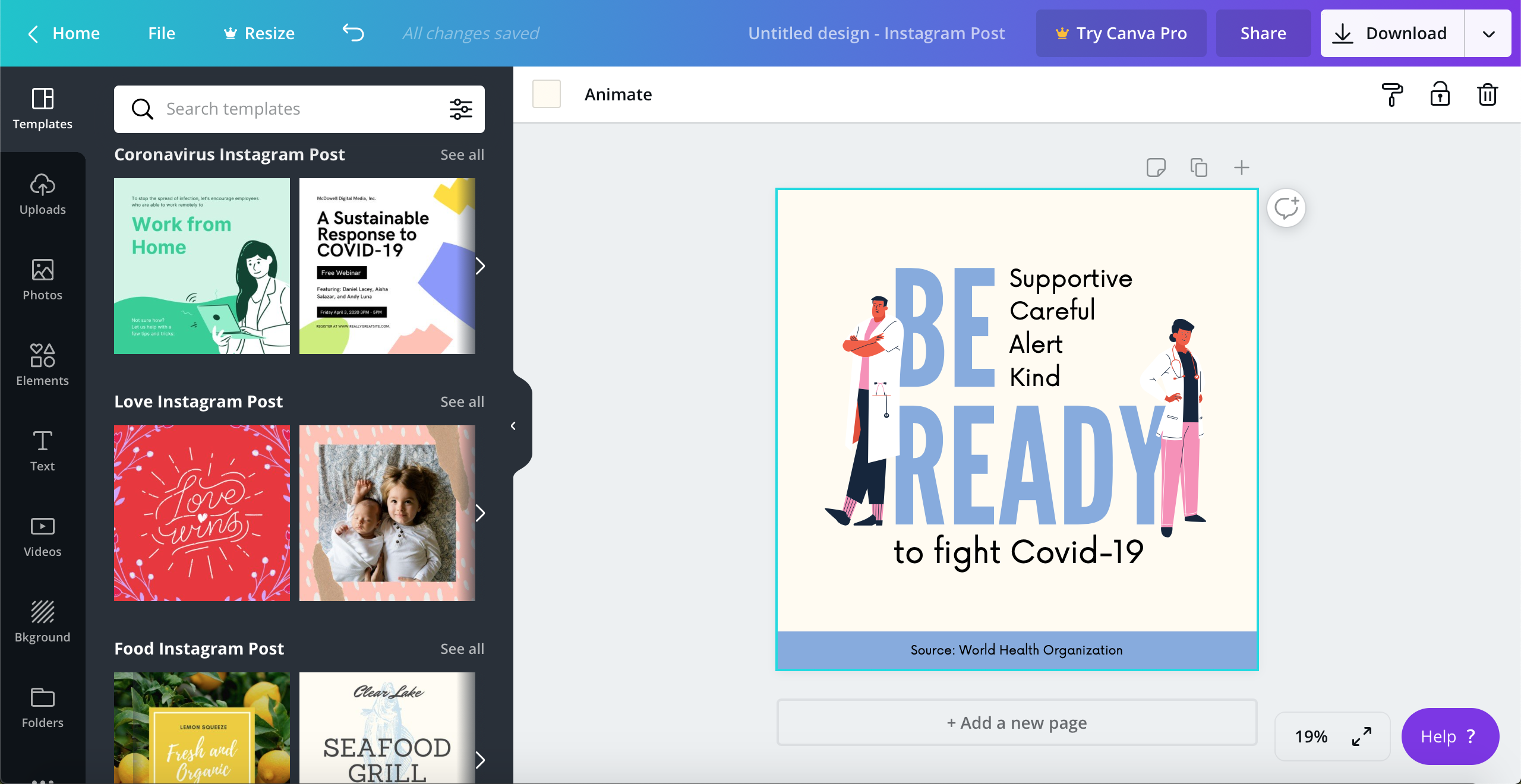 2. Adobe Spark
Adobe Spark is a platform that is easy to use with no experience necessary. You can create social posts, web pages, and short videos. You can upload your own images or choose from thousands of free images they provide. There is a free version but if you want to add your own logos and fonts, you will have to upgrade which is $9.99/month.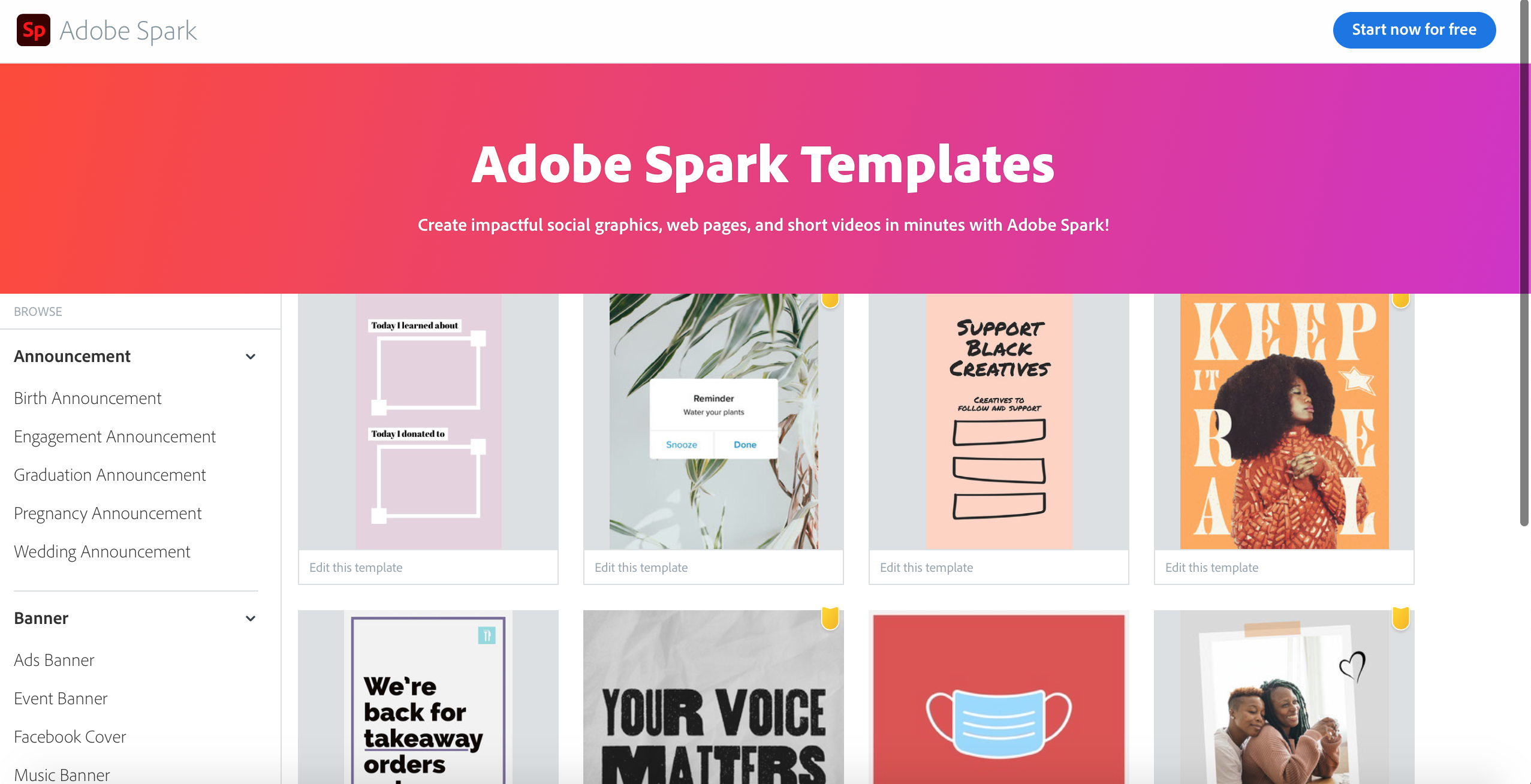 3. Animoto
Animoto is a video making tool. Videos are a great asset to your social media feeds because you can communicate a lot of value to your customers. If you have no clue how to edit videos or even how to get started, Animoto is the tool for you. It can help you create YouTube videos, Facebook ad videos, Instagram videos, and LinkedIn videos through their unique templates that have graphics. In addition, they have a music library full of licensed music tracks to use in your videos. Animoto is free but you can upgrade for more perks at $33/month.
Scheduling Tools
No one wants to have to log in and post every single day. By using a scheduling tool, you can set up a content calendar and let it do the work for you.
4. Buffer
Buffer has a scheduling tool called Publish. You can plan and schedule posts directly to your social media accounts. You can connect Instagram, Facebook, Twitter, LinkedIn, and Pinterest so you can do everything in one place. You can tailor your posts so it's different for each social platform. There are three plans, depending on how big your team is. The lowest priced option is $15/month and you connect 8 social accounts and schedule up to a 100 posts.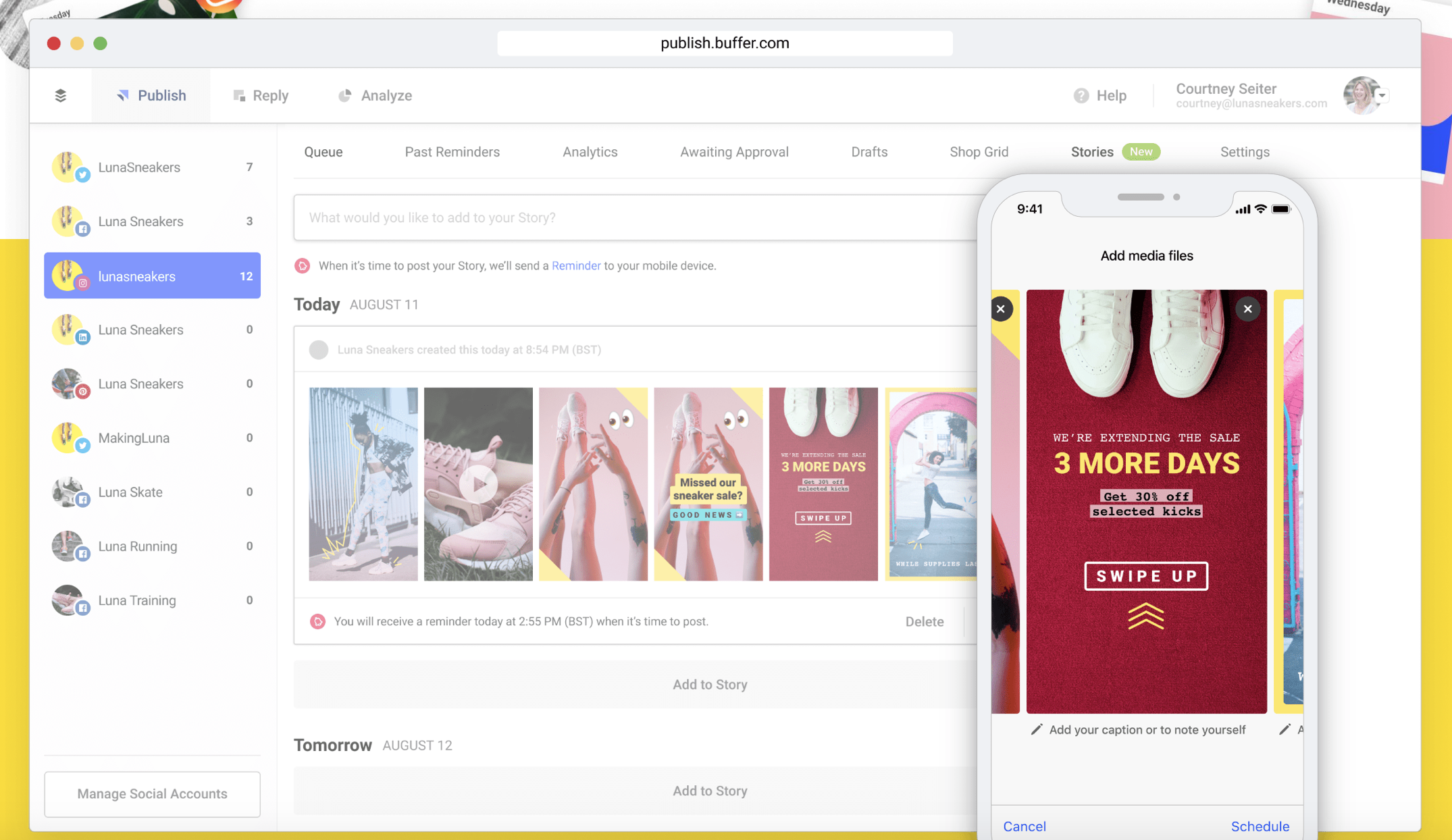 5. Hootsuite
Hootsuite is a good tool if you want more than just scheduling. Their scheduling tool has a publishing calendar, bulk scheduling, and auto-scheduling where Hootsuite will publish your posts at optimal times. In addition to scheduling, they have monitoring, engaging, advertising, and analytical tools that are included. Hootsuite starts at $29/month.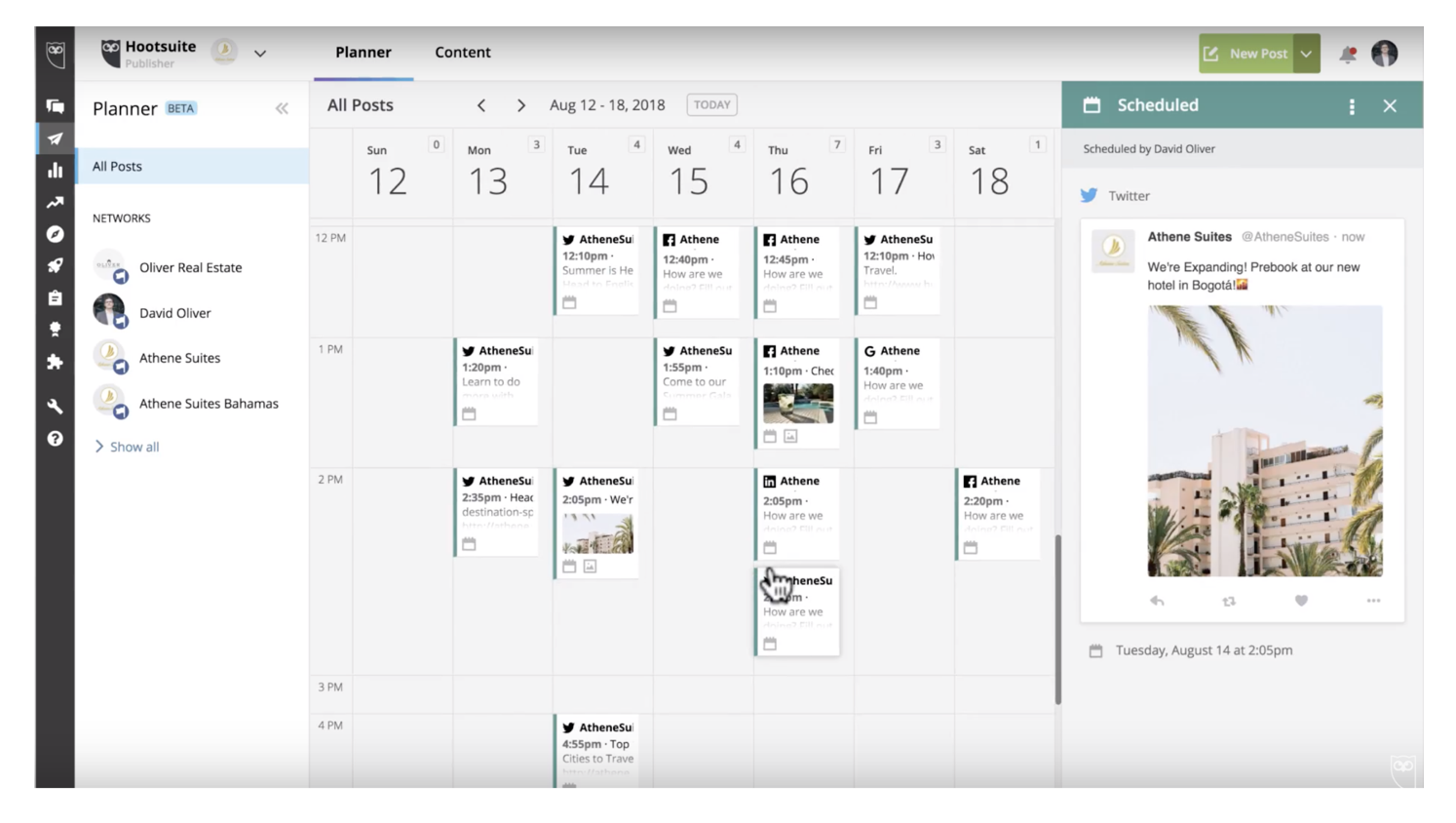 6. Later
Later was originally created just for Instagram but they have since added the other popular social media platforms. Later became popular because they have a feature where you can see what your feed will look like with your upcoming posts. That way you can plan to see what looks best with your theme. Later also has auto-scheduling and a content calendar so you can schedule all of your social media accounts in one place. Later has a free plan or you can upgrade for more features.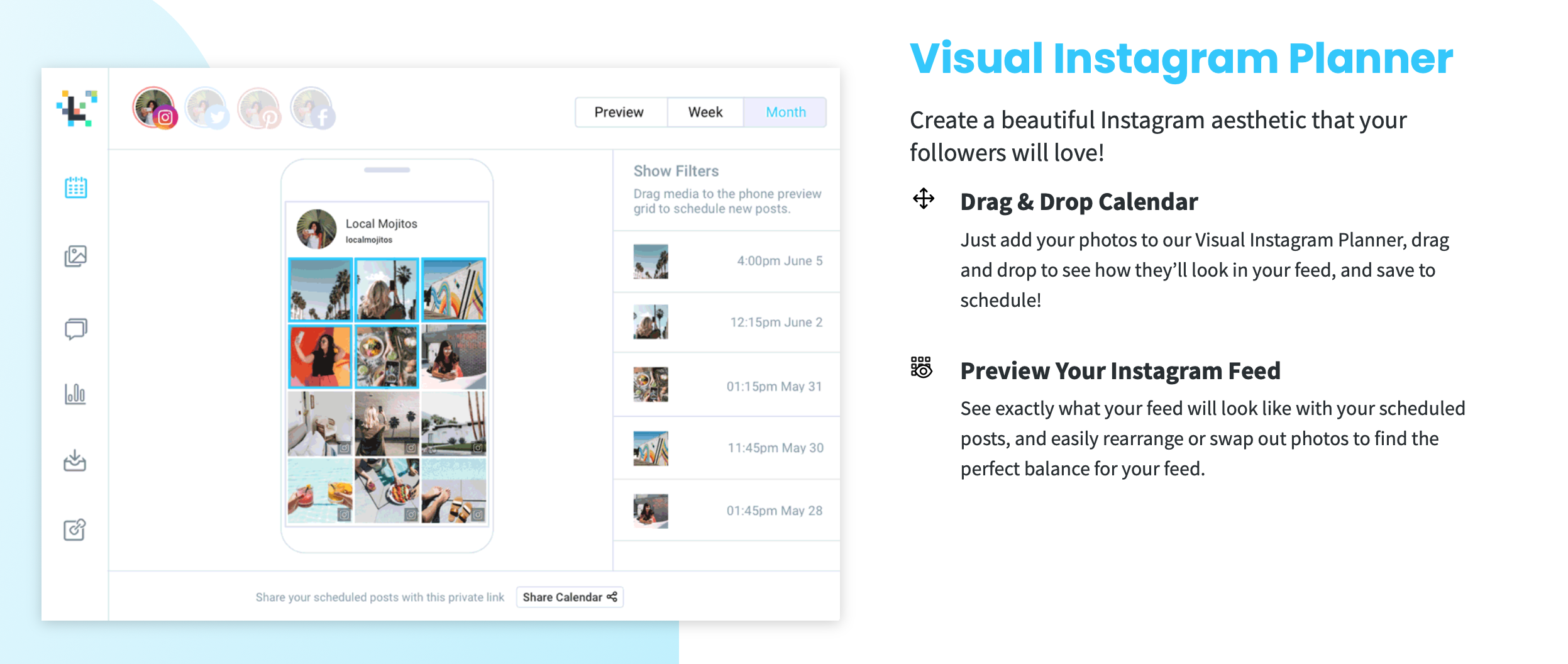 Analytical Tools
If you want more information about your followers and content than what is provided by the social media platform itself, there are plenty of analytical tools available.
7. Sprout Social
Sprout Social is another all-in-one platform but is known for their great analytical tools. Not only are there detailed reports about your own accounts, but there are also reports on your competitors. You can compare data across all of your platforms. It starts at $99/month but you also get scheduling, engagement, and listening tools.

8. Keyhole
Keyhole helps you understand what is working and what isn't. By measuring your performance you can grow your engagement. It also includes a competitive analysis, follower insights, and optimization recommendations. Keyhole starts at $49/month with the option of upgrading for more features.

9. Awario
Awario is an analytics and social listening tool. Not only can you analyze data from social media but you can also analyze blog posts, Reddit, and news sites. It specializes in brand mentions, but has all of the other analytical tools you need too. It starts at $29/month but you can upgrade for more features.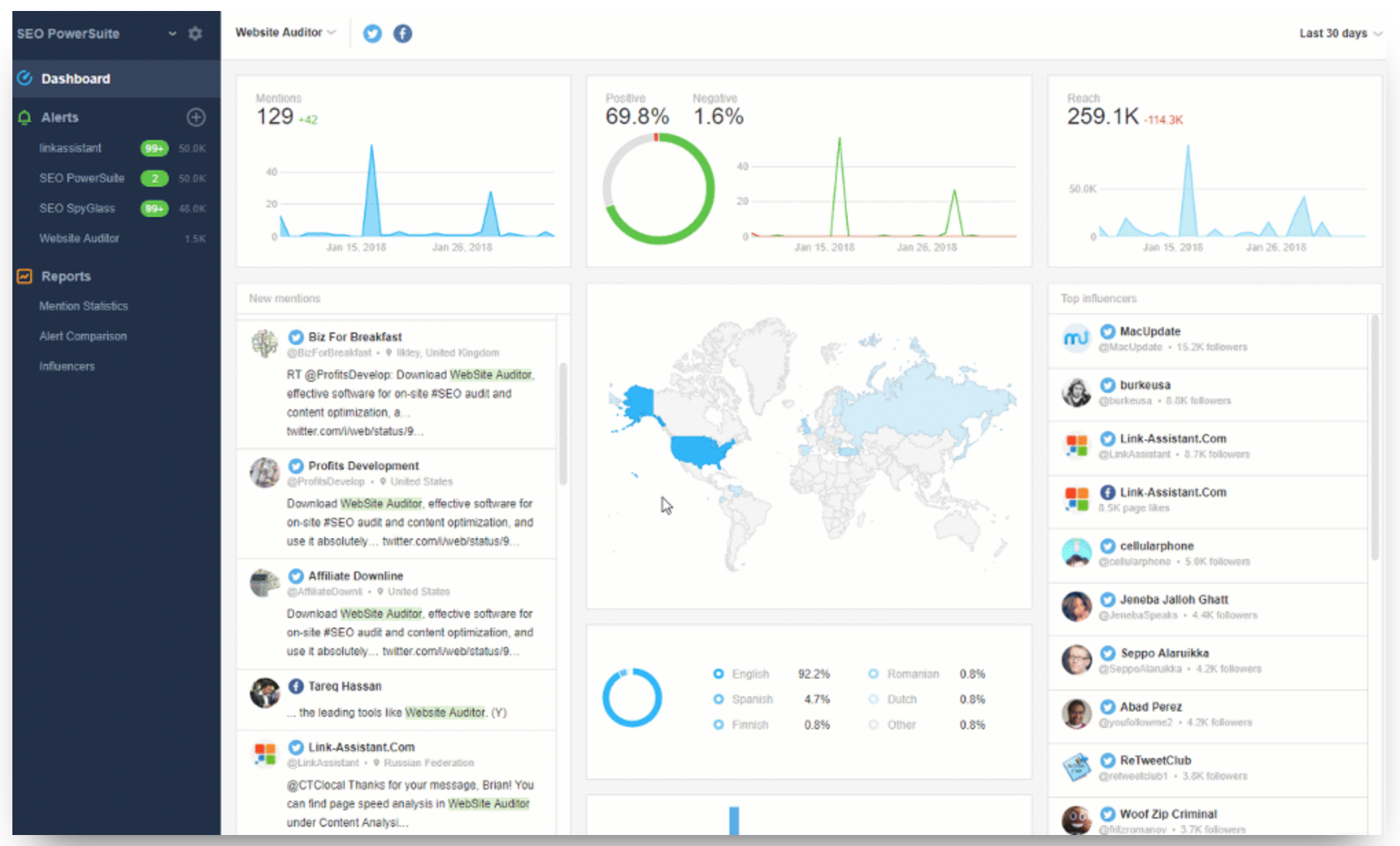 Photo Tools
Pictures are important for engagement and you want to make sure they look high quality.
10. Unsplash
Unsplash is a website where you can download free high resolution photos without having to worry about copywriting issues. You can post them on your social media accounts without a problem. You can easily search for what you are looking for. Unsplash is free.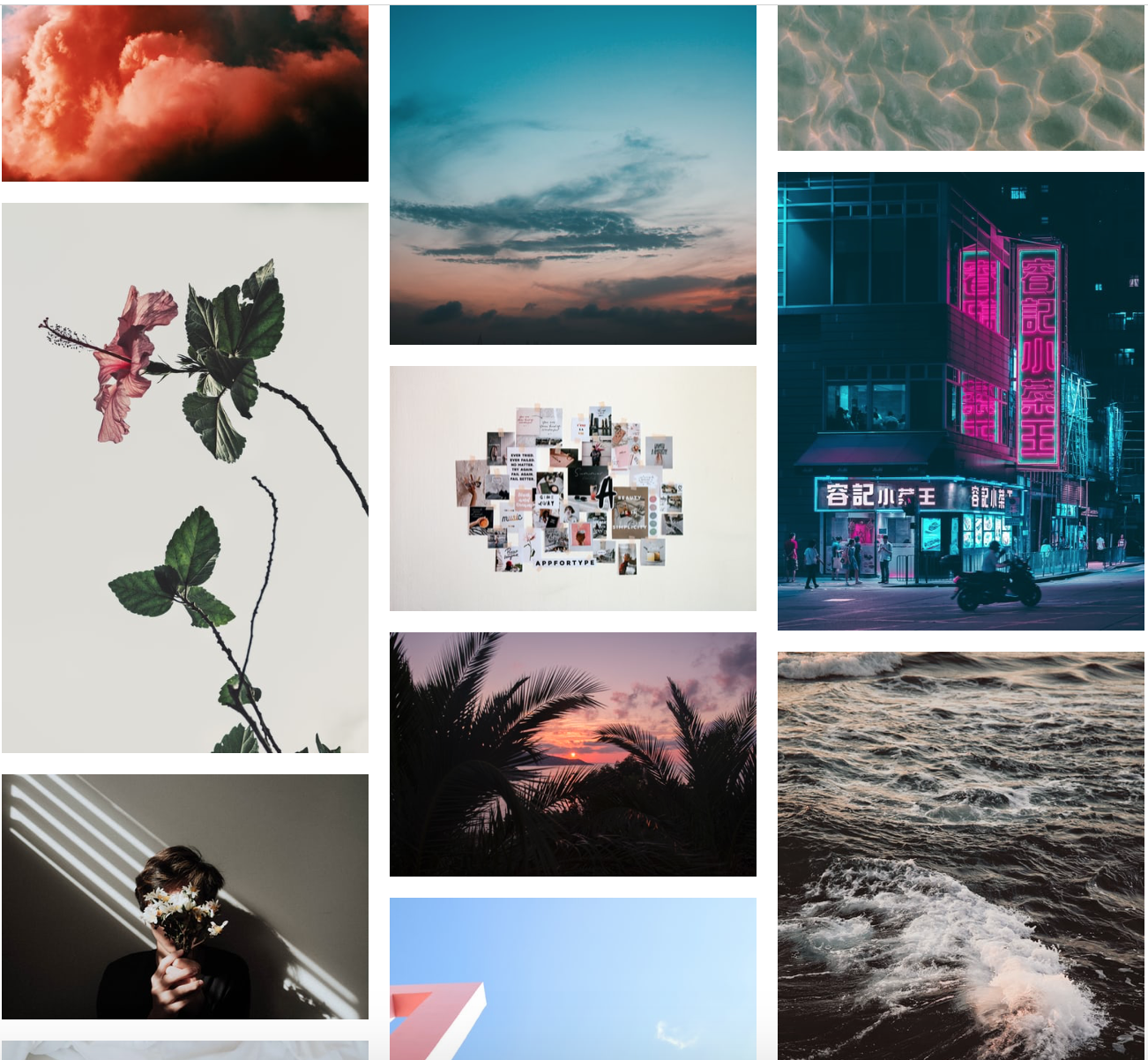 12. Adobe Lightroom
Adobe Lightroom is part of Adobe Creative Cloud. Lightroom is great for photo editing and is relatively easy to figure out. You can color correct and enhance your photos. It is very popular for its filters and presets. If you want your Instagram page to have all of the same theme, you would use a preset. Lightroom comes with some already but you can also purchase some from other creators and download them to Lightroom. You can also create your own! That way you can add the same preset to all of your photos so they fit your theme. Lightroom is $9.99/month for the desktop version but you can download the mobile app for free.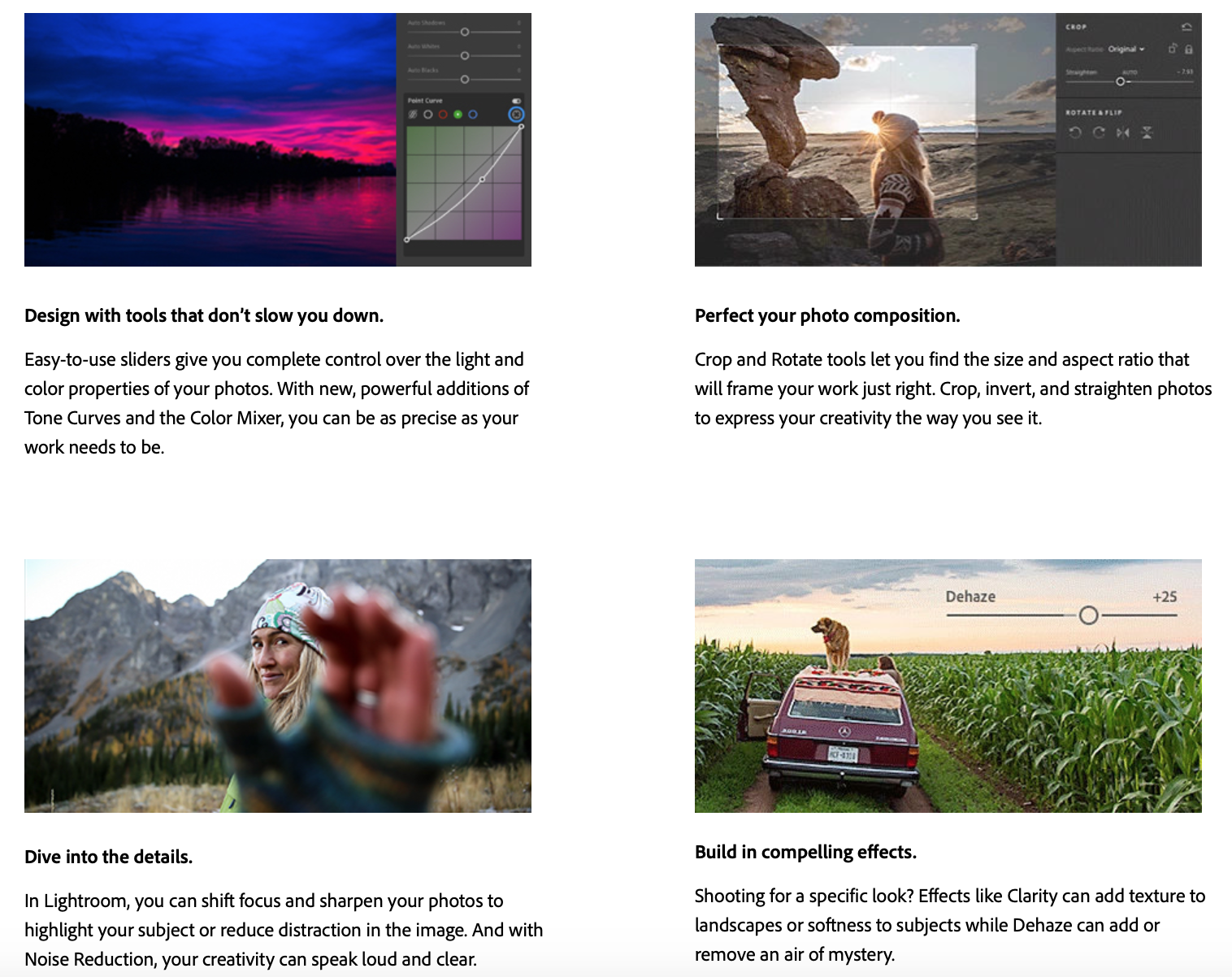 Other Tools
13. Giphy
Giphy is something you'll want to have on hand to add some humor to your posts. Adding gifs to your tweets or Facebook posts will increase engagement. You can search for different reactions or emotions to get the perfect gif for your post. Giphy is free.

14. Lnk.bio
Lnk.bio is a service where you can add multiple links to your Instagram bio. Right now, you cannot add active links to Instagram posts so the link in your bio is the only option. If you don't want to keep changing the link every time you post, you can add one link that has all of your other links on it. It is free and you can add unlimited links but there is an option to upgrade if you want a custom URL for $0.99/month.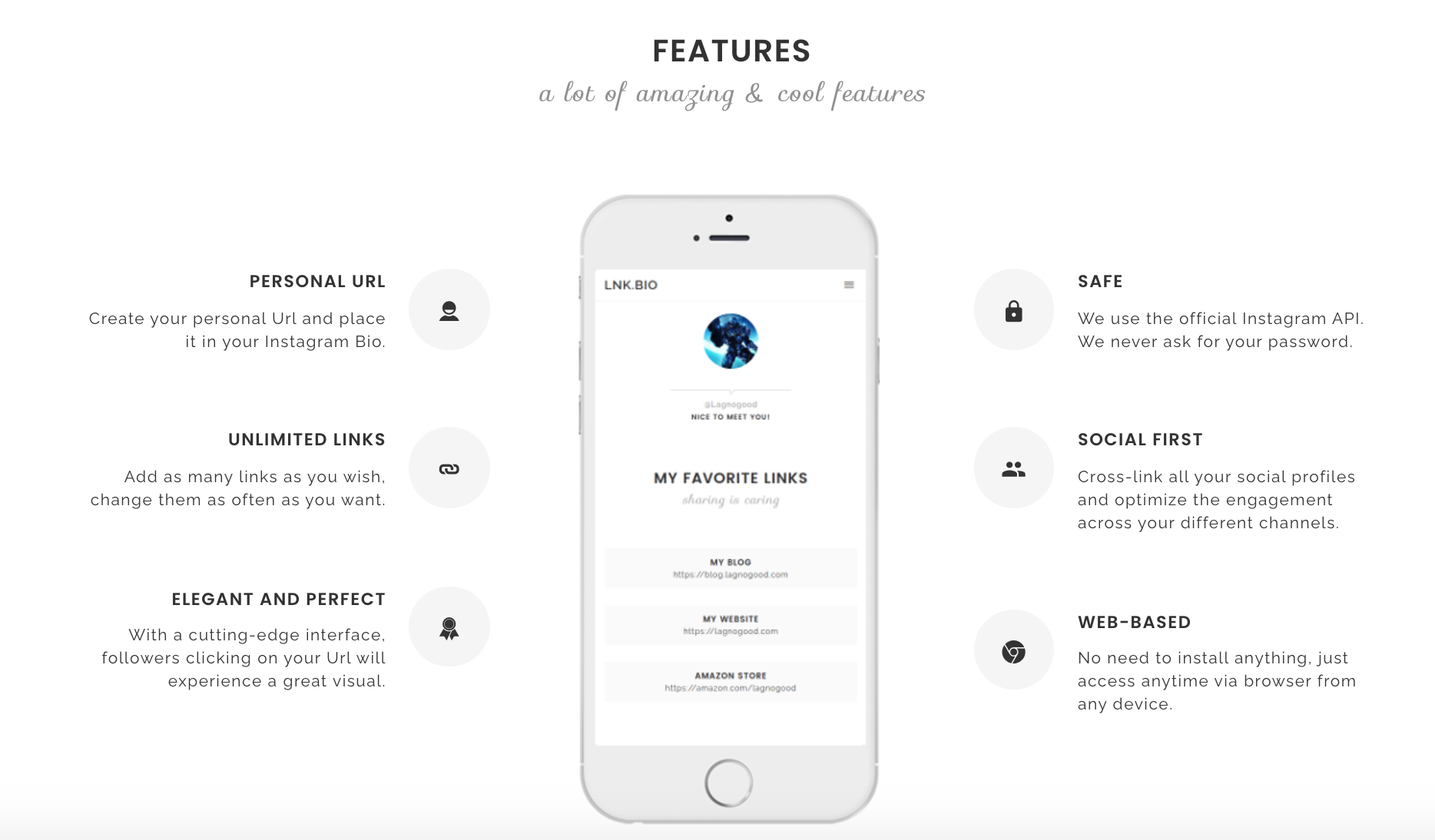 15. BuzzSumo
BuzzSumo is a tool that will let you see what is trending and what people are searching for. You can use this information to improve your social media posts. It has other features as well, including it's own analytical tools and finding influencers who are relevant to your industry. You can also use their topics tool for more content creation ideas. It starts at $99/month with a free upgrade options.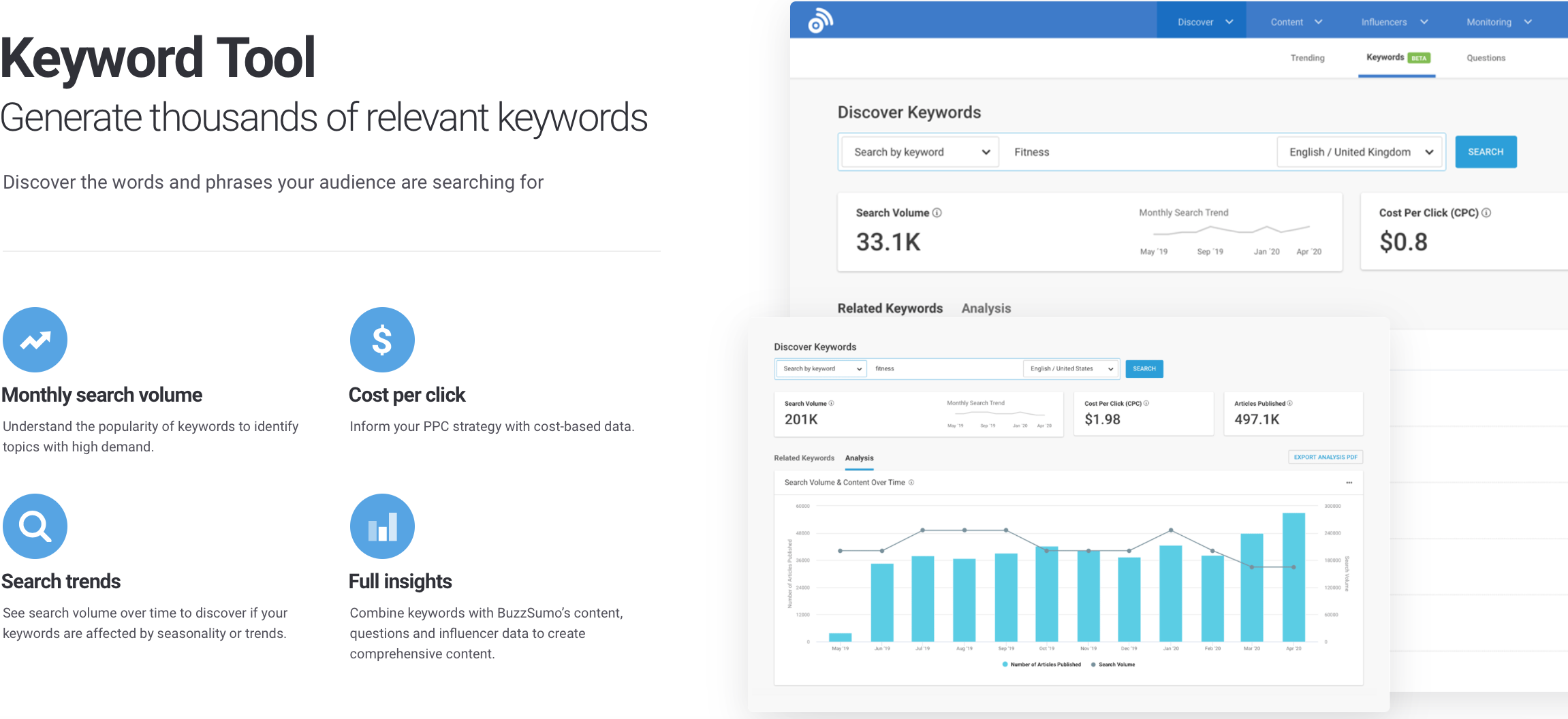 ---
---
Want more help with your social media? Download our free ebook: How to Monitor Social Media in 10 Minutes a Day to learn more about how you can manage your social media quicker and easier. The ebook covers:
What you should be monitoring on Twitter, Facebook, LinkedIn, Google+ & Quora
What tools will help you consolidate your social media information
How other marketers are spending time on social media
Why monitoring matters
So if you loved this post about social media tools, you will love this ebook about social media monitoring!