Marketing automation is an extremely useful tool in streamlining and scaling your campaigns on a larger level. The days of manually sending emails and posting on social media are over (for the most part). Would you rather have an email newsletter all ready to go, and add one more thing on your to do list to post it, or just schedule it and forget it? From scheduling a single social media post to launching full campaigns, marketing automation is a game changer.
Here are 12 of the best marketing automation tools available for busy marketers.
1. HubSpot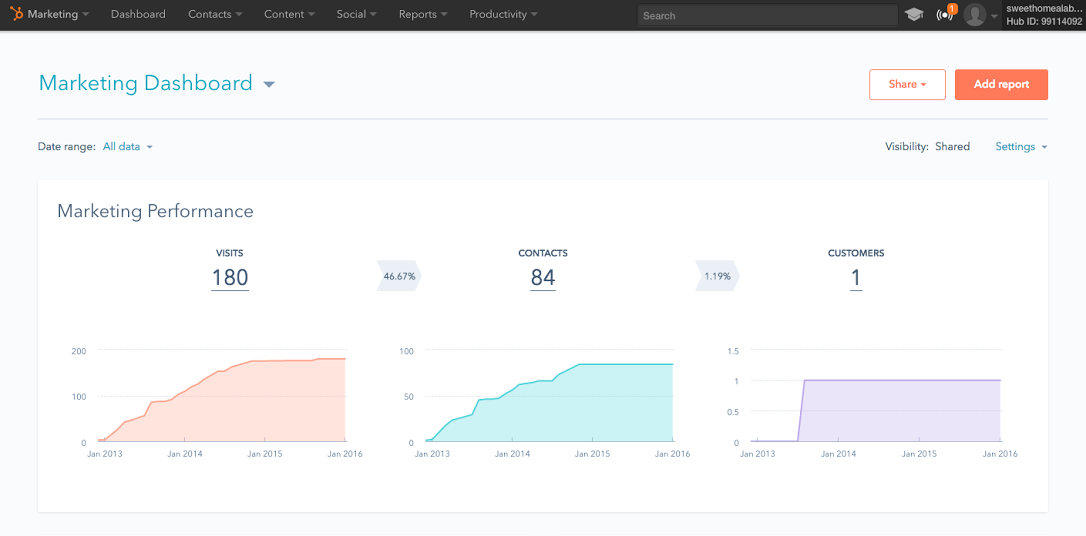 HubSpot is one of the most popular marketing automation tools, and it does a little bit of everything. It is an inbound marketing tool and makes it really easy to track leads through the entire sales cycle. HubSpot also has sales and service software in addition to marketing software, so if you're looking for an all in one powerful tool, HubSpot would be your best choice. One of the best features of HubSpot marketing automation is the workflow capability. Using this tool, you're able to track when a prospect fills out one of your forms (maybe for an ebook or other content offer), put them into a list, and send a series of automated follow up emails, making it as easy as possible to guide them down your sales funnel.
Pricing starts as $200/month
2. Marketo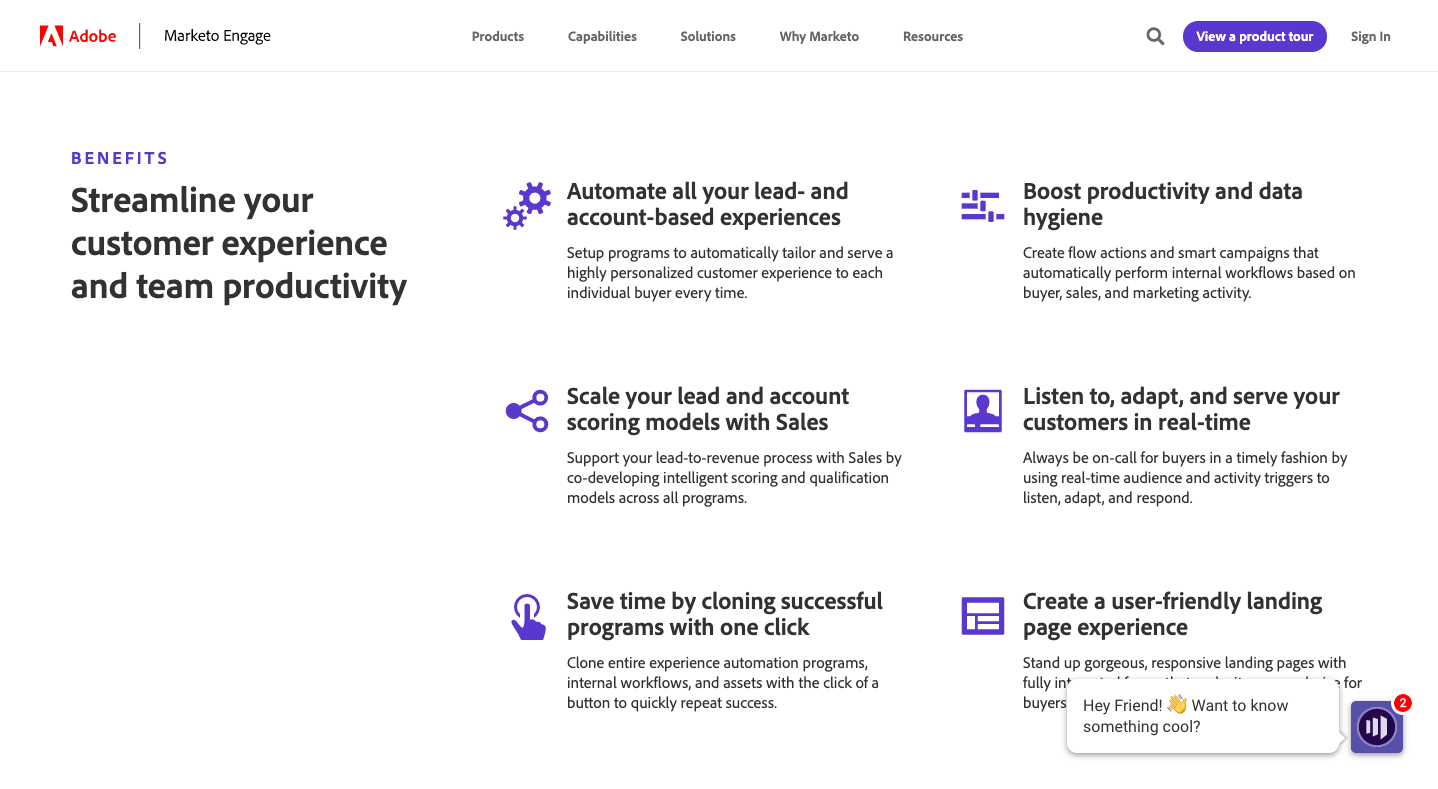 Marketo is also incredibly popular in the world of marketing automation tools. It helps manage email campaigns, in addition to providing support to sales teams. Marketo is super useful for tracking user activity and engagement, and it has a specialized system to help you capture, track, manage, and score leads. It also helps you automate your account based marketing, allowing you to set up automated customer experiences that are still personalized. However, Marketo is best for larger companies, and is on the more expensive side.
Pricing starts at $895/month
3. Eloqua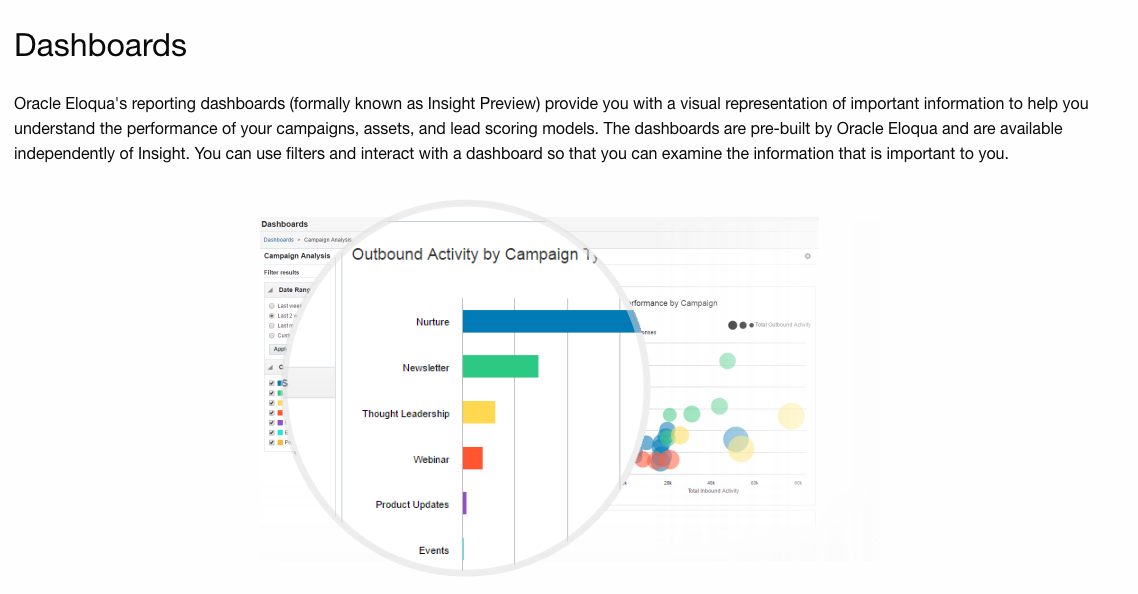 Eloquoa is like the designer brand of marketing automation. It's a unique tool because it has over 700 possible integrations with third party services, meaning that if you choose Eloquoa, there's very little you can't do with it. It also has great features that make personalization easy. Since it is such a comprehensive automation tool, it is mainly for large enterprises.
Pricing starts at $2,000/month
4. Customer.io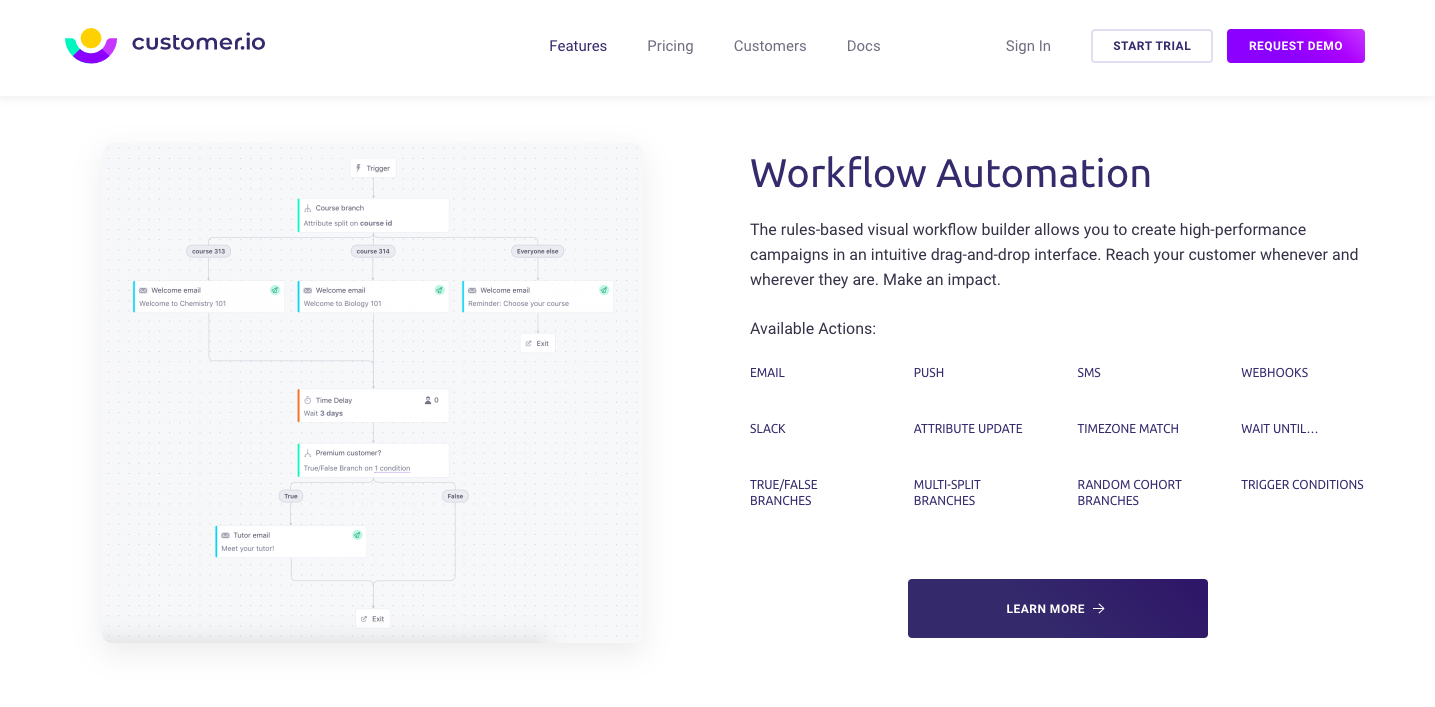 Customer.io is a very flexible tool for marketing automation, and has endless options for customizations. They also offer an impressive segmentation tool for filtering contacts into lists based on personal attributes, the pages they viewed, and how they interact with your product. Another great thing is that the segments are updated in real time. Since personalization is something that can really set an automation tool apart, this is definitely an option to consider.
Pricing starts at $75/month
5. Pardot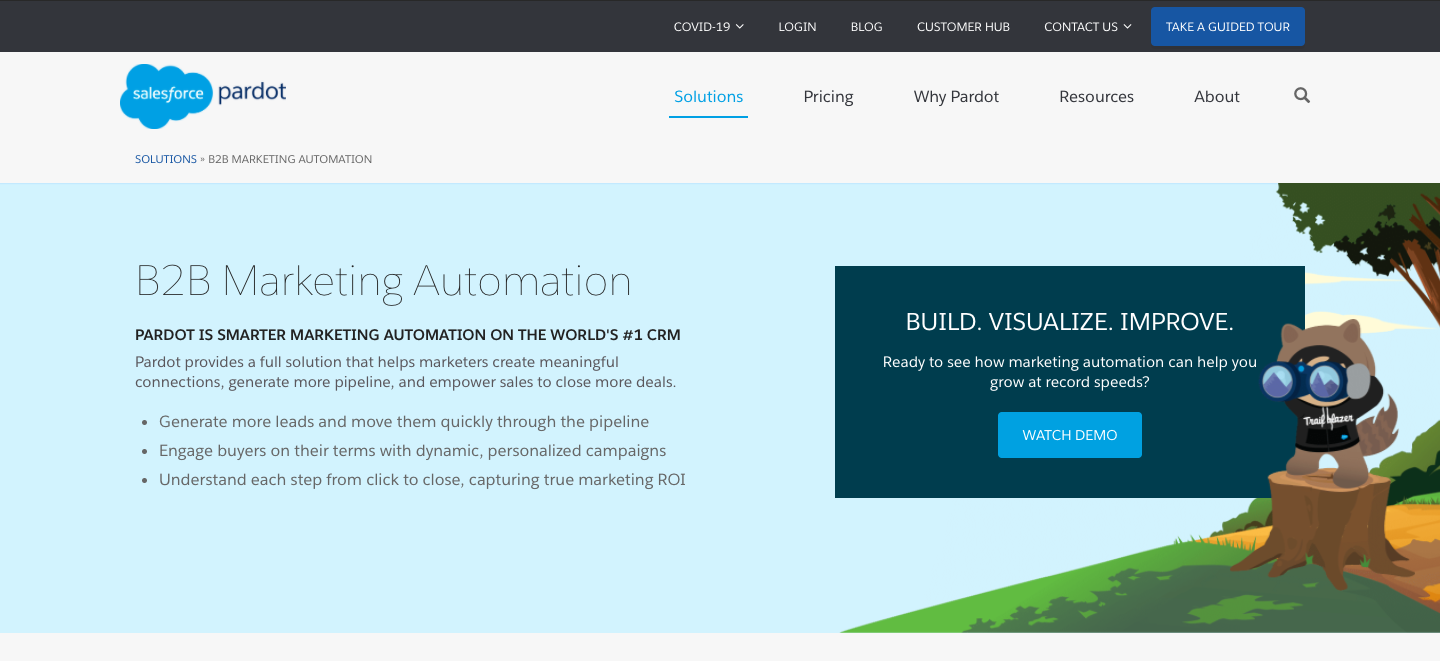 Pardot has tons of ways to automate communication to existing contacts, including email marketing, lead nurturing, and a comprehensive reports feature that helps you visualize the success of your campaigns. You can also track all interactions on your website and build a predictive lead scoring system based on that data. All of Pardot's features enable you to perform marketing functions more efficiently and once again, make the marketing to sales handoff even more seamless.
Pricing starts at $1,250/month
6. ActiveCampaign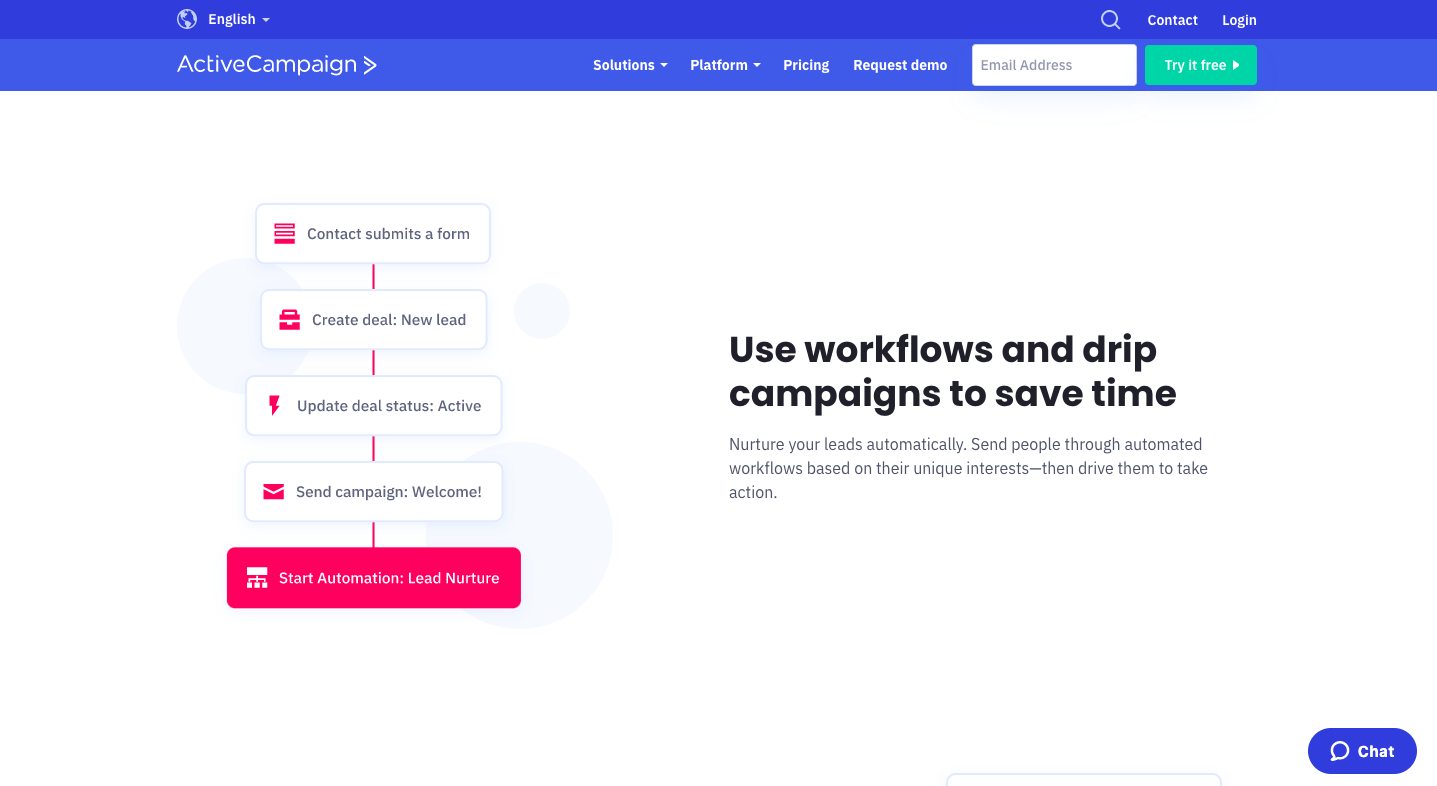 ActiveCampaign goes beyond your standard email marketing automation tool. It also has its own Sales CRM that creates a seamless transition from marketing to sales. It uses many of the same processes that can be automated for marketing in the sales process. It also features A/B split testing for emails, and has one of the highest deliverability rates in the market. One of the disadvantages of ActiveCampaign is that it is not the most intuitive automation tool, and may take some practice to get used to it. However, it's one of the most affordable options on this list and great for businesses of any size.
Pricing starts at $9/month
7. MailChimp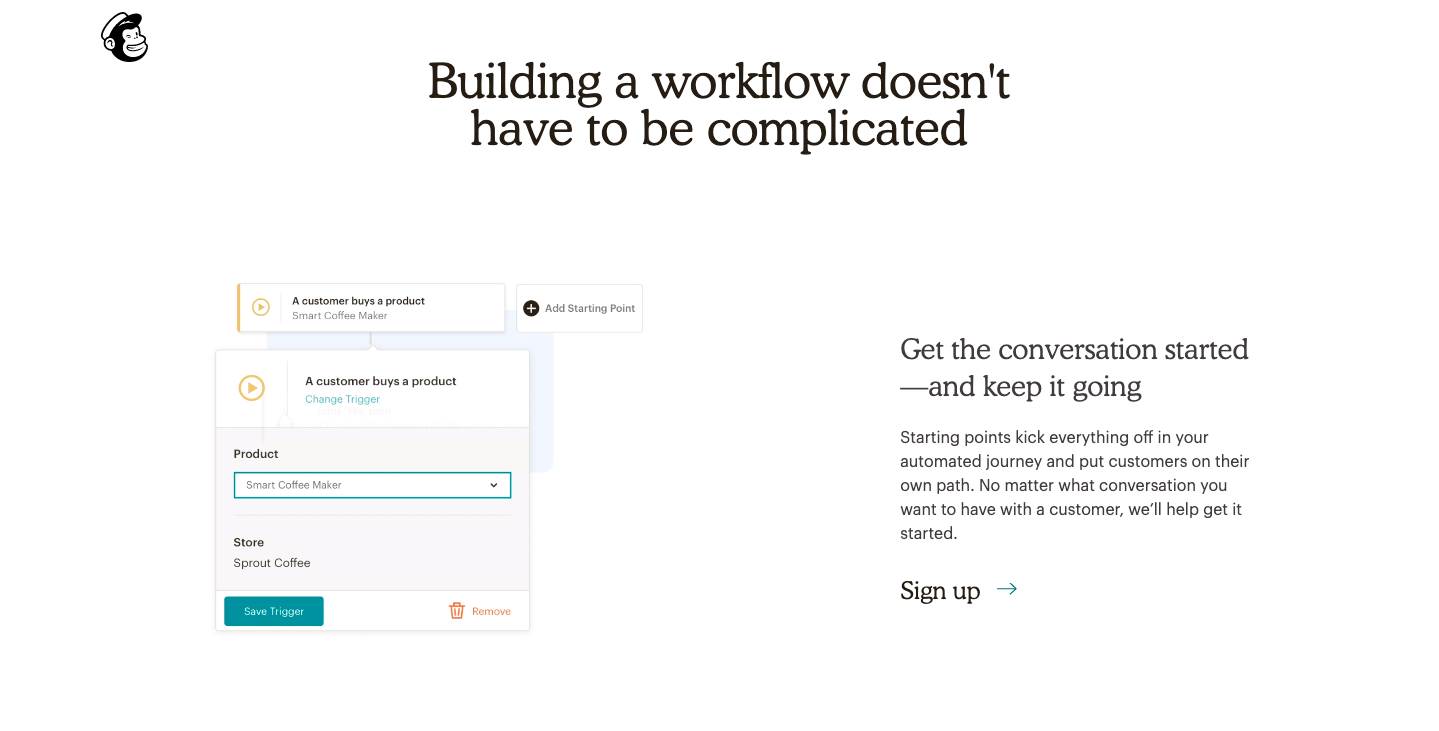 MailChimp is one of the original email marketing tools and one of the most popular. It provides ready-made email templates and has a very user friendly email editor. It makes it easy for business owners to add product recommendations into emails and offers advanced segmentation features. It also provides detailed reports so you can track your most engaged contacts on your email list.
Pricing starts at $14.99/month
8. Buffer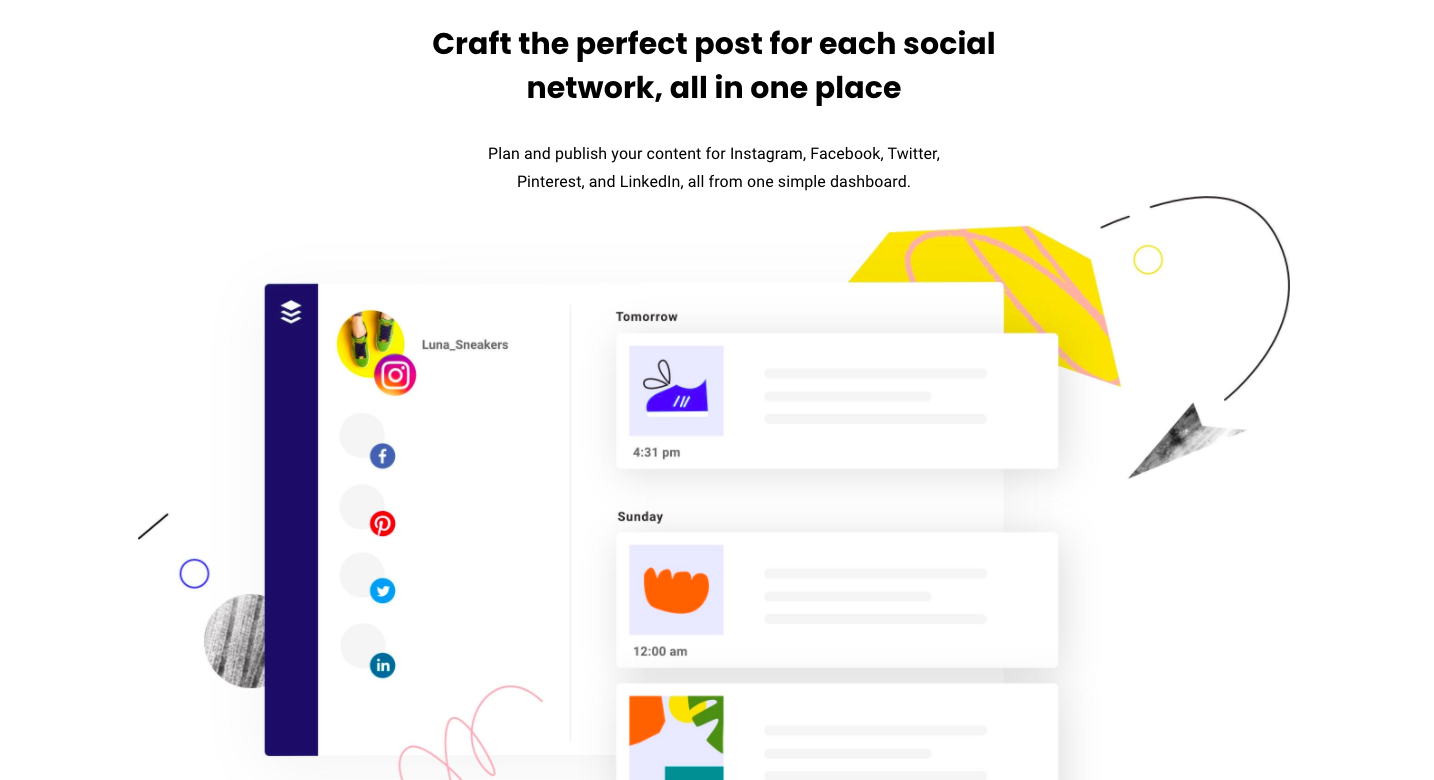 Buffer makes it easy to schedule posts across multiple social media platforms, and customize each one. For example, if you want to share the same graphic and caption across both Instagram and LinkedIn, but want to use different hashtags, you can schedule the original post in both platforms, and then customize it to each platform. It also makes it easy to reply to comments and analyze engagement metrics. You can view your scheduled posts in a list format or a calendar view to see everything laid out.
Pricing starts at $15/month
9. HootSuite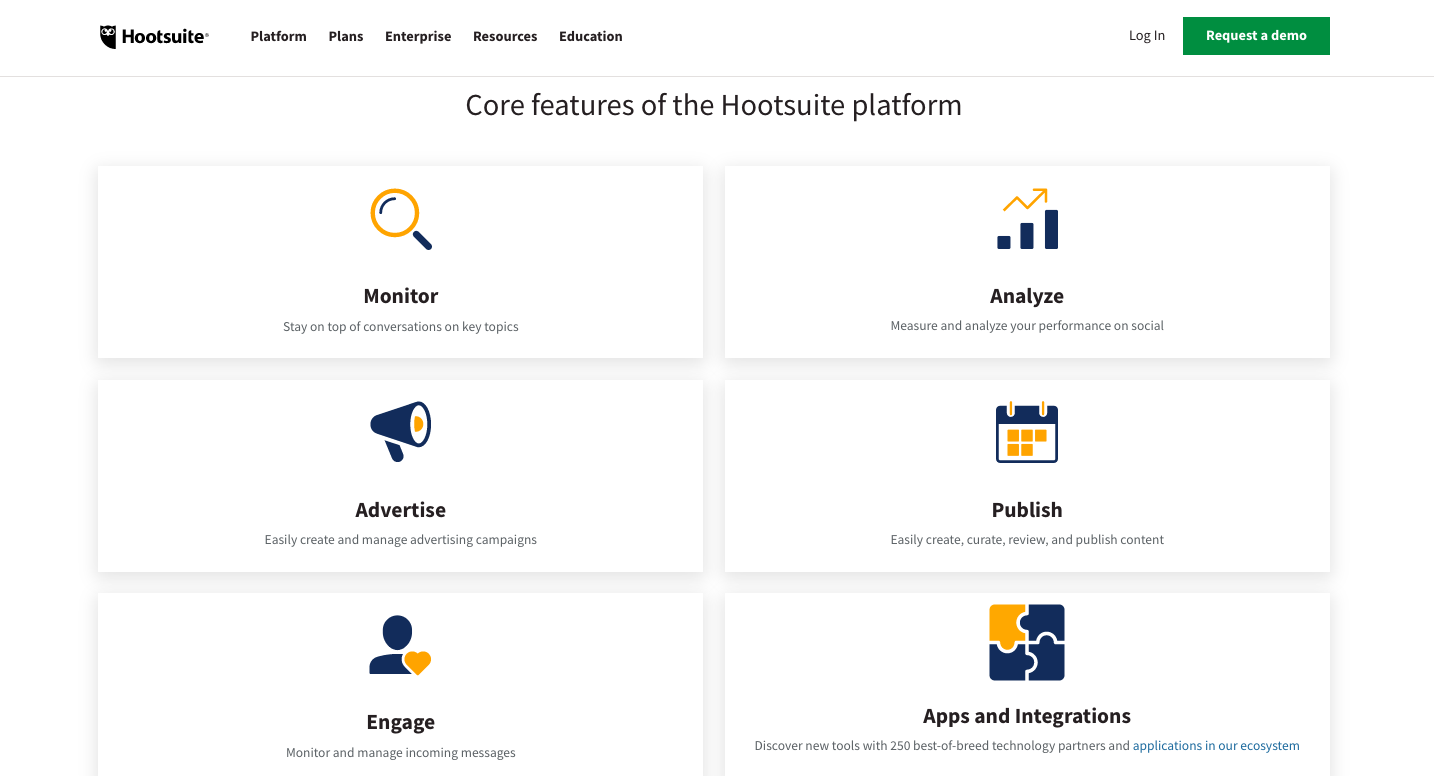 HootSuite is one of the most popular social media management tools, and allows you to curate a custom content calendar. It makes it easy to review what you've scheduled and edit it as needed before it is actually posted. It also makes it easy to engage with your followers, directly from HootSuite, which interacts with over 35 popular social networks. HootSuite also integrates with over 250 third party services.
Pricing starts at $29/month
10. Sprout Social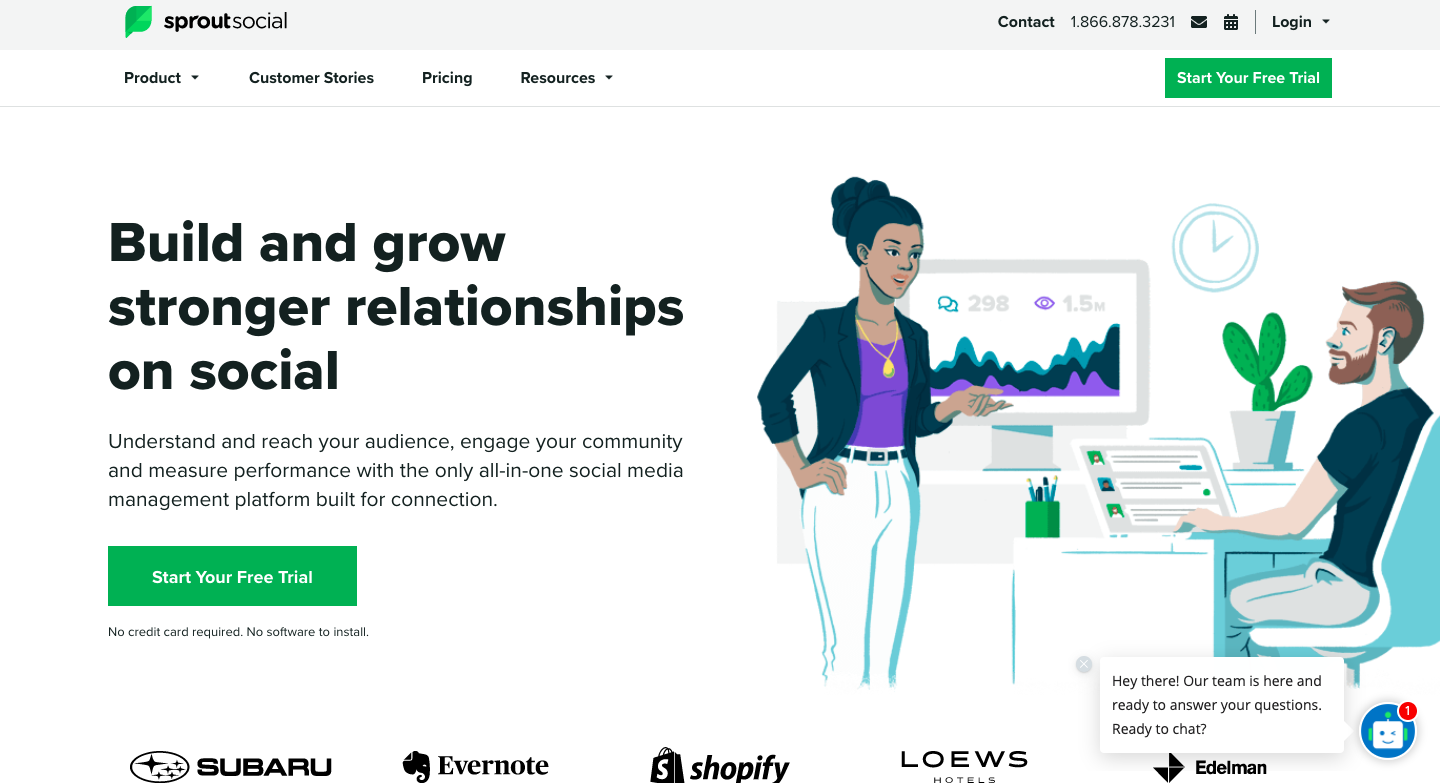 Sprout Social is a powerful social media tool that does everything from scheduling posts to monitoring and engaging with followers. Every plan includes a Smart Inbox, which allows you to easily reply to messages from all social media platforms, all in one central inbox. Another cool feature is Collision Detection, which is useful if you have multiple people monitoring social media accounts, and it lets you know when a teammate is already viewing or responding to a message.
Pricing starts at $99/month
11. AdRoll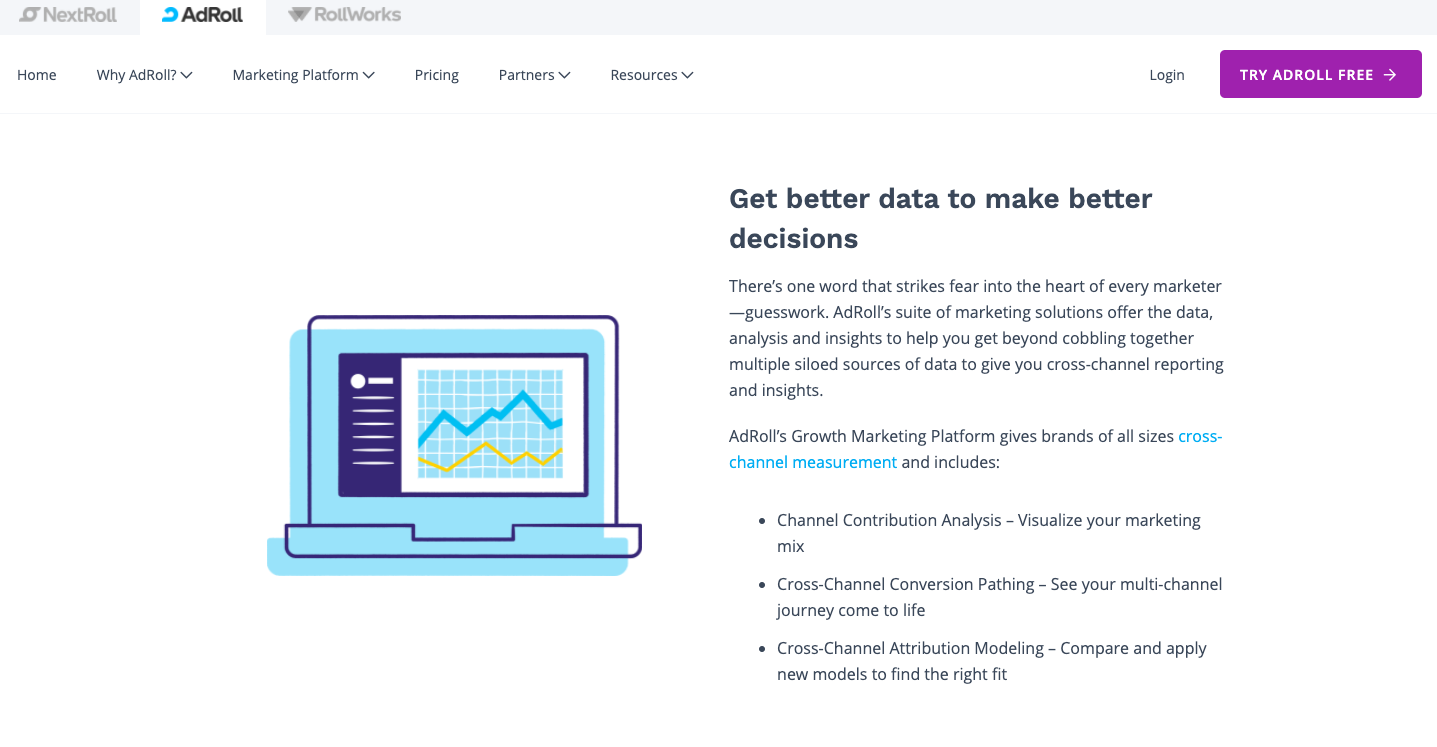 AdRoll is great for automating advertisements across social media. It has flexible segmentation features and is very helpful in retargeting across multiple devices and platforms. It makes it as easy as possible to automate the ads you are running across display, social, or email. AdRoll also offers customized budget tools and full control over your ad spend.
Pricing starts at $9/month
12. Bizible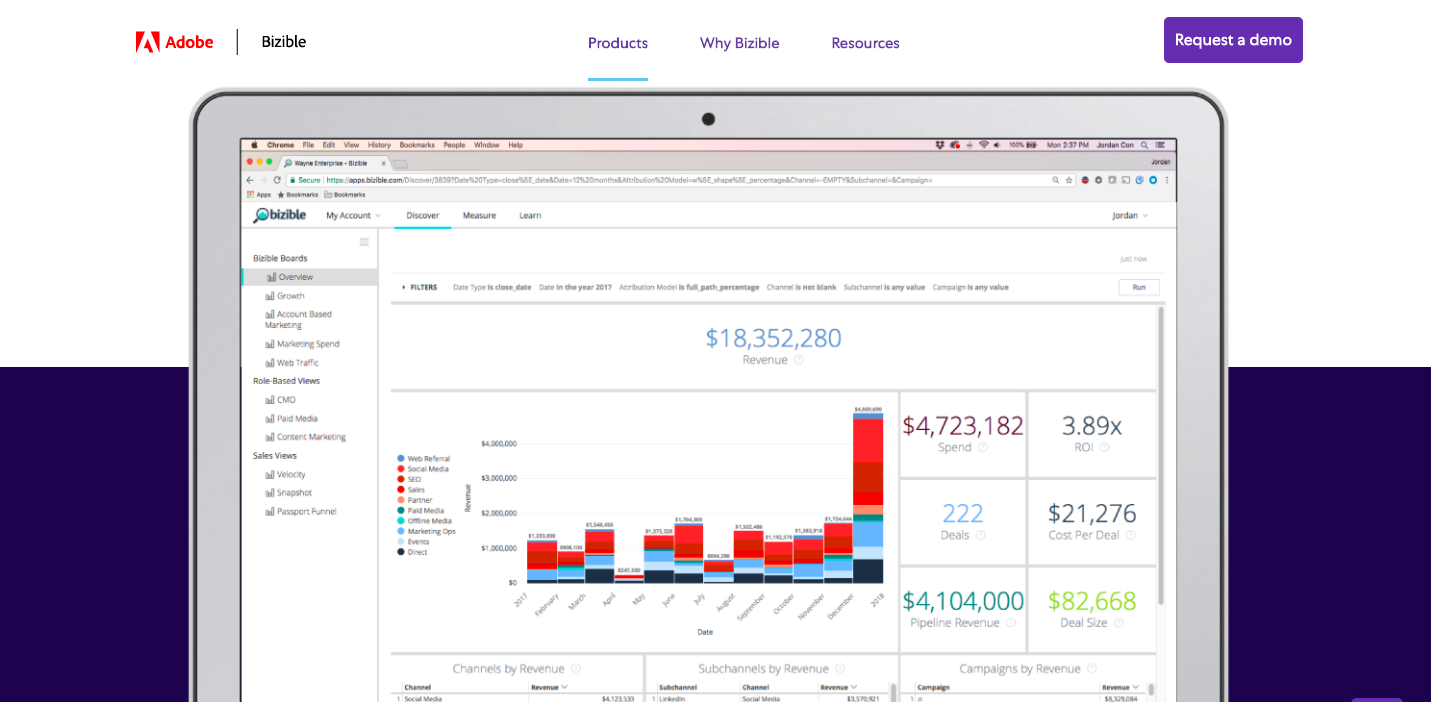 Bizible not only makes the sales handoff between marketing and sales seamless, it creates an open channel of communication between the two. It offers multi channel tracking that shows both sales and marketing metrics. Bizible is very useful in understanding the entire buying journey from the customer's perspective. It provides detailed metrics for campaigns and ads, as well as detailed lead histories.
Pricing starts at $1,500/month
No matter what type of business you have, or what size, there is a marketing automation tool out there that will work for you and your team!
Want more useful marketing content like this?