Have you started a new business but don't know where to start with marketing? Then this blog post is for you. We go over everything we do for our clients here at Oh Hello Branding Group. Let's get started.
Marketing Checklist:
Personas
Buyers Journey
Build a Storybrand
Content Audit
Google My Business Page
Website Optimization
Social Media
Blog
Email
Campaigns
Although you may want to start with some of the things at the bottom of the list, you have to do some prep work before you jump in.
Buyer Personas
To help understand who your target audience is, you must create buyer personas to have a successful marketing strategy. Buyer personas help segment your audience which generates higher engagement and more leads. Every marketing decision you make in the future should be based off these personas.
Buyer personas are fictional, generalized representations of your ideal customers. Personas should include background information, demographics, identifiers, goals, etc. They help you understand your customers and what their needs are. Since your business is new, start with just a few personas and add more as your business grows.
To learn more about buyer personas and to create your own, download our ebook that includes persona templates.
Buyer's Journey
Customers go through a process before actually purchasing an item. By understanding your customers buyer's journey, you'll know the pains and problems they face during each stage and can customize your marketing and sales to address them.
There are three stages of the buyer's journey: awareness, consideration, and decision. During the awareness stage, the buyer is experiencing a problem and they want to solve it. During the consideration stage, they have clearly defined their problem and start to research solutions. Finally, during the decision stage, they have decided on a solution and look to make a purchase.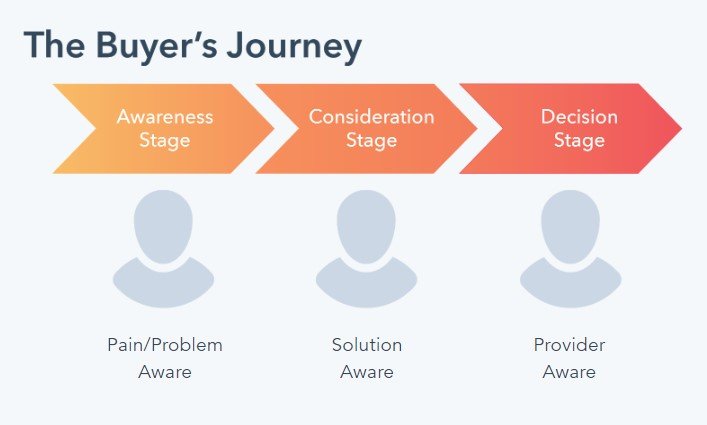 You can tailor your sales process to the buyer's journey to ensure they are being prospected at the right time. You can also create marketing content and resources for your customers during the consideration stage when they are researching solutions. It's important that you establish the buyer's journey early on in your marketing strategy.
Storybrand
Another important step in the marketing process is to build a storybrand. Doing so will help clarify your message for your customers. If you don't have a clear, distinct message your customers won't understand the benefits of your business and won't engage with you.
There are several elements to the storybrand script. Answer the questions below to help guide you through the process. We also recommend reading the Building a Storybrand book by Donald Miller if you are serious about developing a marketing strategy.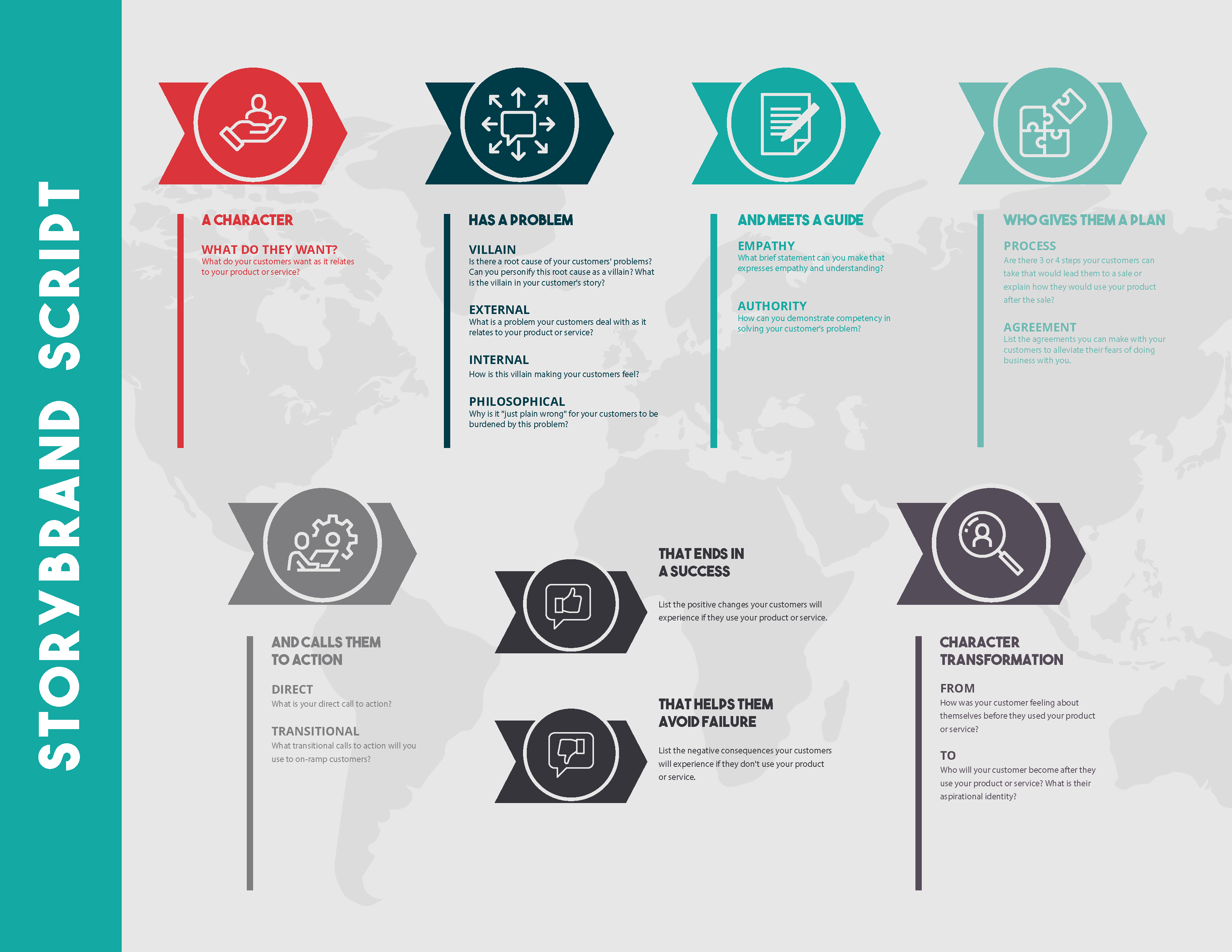 Content Audit
Content audits are an extremely useful tool that go through every single piece of content that exists for your business. It documents where content can be found, what type of persona it is for, what type of format it is, and what stage in the buyer's journey it falls under. It's a living, breathing document that should be updated with every new piece of content.
This is very useful for both marketing and salespeople, because by analyzing and assessing all the content under your business, you can see what types of content you have too much of, where you could use additional pieces of content, and any other missing pieces. For salespeople, it can be the go-to place to find resources when prospecting.
To learn more about content audits and how to start one, check out this blog post. Even if you don't have any existing content since your business is new, starting a content audit and getting into the habit of updating it will be crucial in your marketing strategy.
Google My Business Page
In order to rank higher in Google search results, you need to gather reviews. In order to do that, you must create or claim a Google My Business listing. Google My Business (GMB) is a free tool provided by Google for businesses and organizations to manage their online presence across Google, including Search and Maps.
Update your listing to include your store hours, contact information, photos, etc. The more optimized the listing, the easier it is for customers to find you. Then, encourage customers to leave you reviews. This will increase exposure as you move up the Google rankings.
To fully optimize your listing, follow these 14 steps.
Website Optimization
Maybe you already have a website or maybe you are creating one from scratch, whatever the case may be, it's important that it is optimized for Google and SEO. Search engine optimization is all about ranking higher in search results so that you get increased website traffic and more conversions. So, although it's important that your website is visually appealing and easy to navigate, it's also important that it's designed with Google in mind.
Website optimization is extensive, but some elements that Google looks for is keywords, links, page speed, a good meta description, being mobile friendly, and content. You need to show that your website is trustworthy.
If you don't have much experience with building websites and coding, we recommend using a professional. Here at Oh Hello Branding Group, we build websites all the time. Schedule a free consultation to see how we can help your website.
Social Media
If you don't have social media accounts set up for your business yet, do so now. Social media is a great method of communication with your clients. Posting regularly will also help you gain authority and build trust. Check out these 15 social media tools to help you get started.
When posting on social media, be sure it is sticky, not shiny, content. You shouldn't just be posting nice looking photos, there needs to be a call to action in the caption that guides customers to the next step. Direct them to your website or ask them to DM you, be sure to get them to engage with you in some way.
Download our Shiny vs. Sticky infographic and check out a video on the topic here.
Blog
Creating a blog for your website will help with your SEO. Based on the keyword research you should do during your website optimization, write blog topics that people are commonly searching for on Google. Publishing blog content once a week will help your SEO ranking and provide resources for your customers. Be sure to include a CTA at the end of each blog post.
To learn how to write blog posts with SEO in mind, check out this post.
Email
Email marketing is still a very important tool in marketing. As a new business, it'll be important to gather a contact list so you can start emailing your customers. Be sure to start a monthly newsletter to communicate with your customers updates on the business, new products, any promotions, new campaigns, new blog posts, etc. You can also create email drip campaigns to nurture existing customers.
In order to collect emails, create gated content. This way in order to download a piece of content, people will have to submit their email first. Another way you can get emails is to offer a 10% off deal if you submit your email. Attending conferences and tradeshows is another way to collect emails.
Read this blog post to learn 17 tips for your email marketing strategy.
Campaigns
Once you have everything set up, you can start creating campaigns. Here at Oh Hello Branding Group, we focus on content marketing. Content marketing is a strategic marketing and business process focused on creating and distributing valuable, relevant, and consistent content. The content should be targeted to a clearly defined audience and ultimately it should drive profitable customer action. This can be an infographic, ebook, video, checklists, template, webinar, etc.
Campaigns have a lot of components. In fact they include:
Piece of content
Landing page
Form
Thank you page
Follow up thank you email
Blog post
Social media posts
Promotional email
CTA's
Paid ads (optional)
To learn more about what goes into a marketing campaign, the benefits of each component, and how to run a campaign, download this guide.
---
Marketing is so much more than just posting on social media. There are so many elements, in fact we haven't even mentioned all of them in this post. If this seems like a lot for one person to handle, consider hiring a marketing agency. At a marketing agency, a whole team of people will be working on your business and helping you accomplish your goals. Check out this blog post to learn the many benefits of working with a marketing agency.
If you have any questions about any of these tasks, please don't hesitate to reach out. We'd love to help your new business!